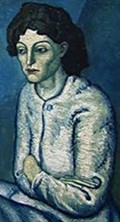 20. Femme aux Bras Croises (1902)
By Pablo Picasso.
$55.0 million (2000)
Christie's, New York.
GREATEST ARTISTS
See: Best Artists of All Time: Top 10.
20. Femme aux Bras Croisés (1902)
• Painted by Pablo Picasso (1881-1973).
• Sold at auction in 2000, for $55 million.
• Seller: McCormick family. Buyer: unknown.
Not an iconic masterpiece of his Blue Period to compare with La Vie (1903), The Old Guitarist (1903), La Celestina (1904), or Blue Nude (1904), even so, this work is one of Picasso's most haunting expressionist paintings from his early life in Paris. The exact identity of the subject is unknown, but is reputed to be an inmate of the Parisian asylum at Saint-Lazare, who had tried to commit suicide and now sits listlessly with no interest in her life or surroundings. Originally purchased from the artist by the American expatriate and novelist Gertrude Stein, this Picasso Portrait became one of the world's most expensive works of art when auctioned in 2000. As late as 2004, it was one of five Picassos in the Top 10 most highly priced paintings sold at auction: the list included, Garcon a la Pipe ($104.2 million), Femme aux bras croises ($55 million), Femme assise dans un jardin ($49.6 million), Les noces de Pierrette ($49.3 million), and Le Reve ($48.4 million).