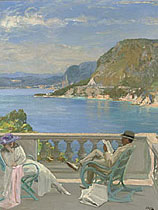 The Honeymoon. John Lavery.
£915,200
Sean Scully (b.1945)
Ireland's most famous contemporary abstract artist, noted for his monumental semi-geometric-style compositions.

• Wall of Light Stone (2000)
£565,250 (Sotheby's London, November 2010)

• Wall of Light, Orange Green (2005)
£565,250 (Sotheby's London, November 2010)
For more about non-representational painting, see: Abstract Art.
For more about modern painters, see: Contemporary Irish Artists.
Sean Keating RHA (1889-1977)
Leading exponent of representational art in Ireland during the 1920s and 1930s, noted for his iconic images of the struggle for Independence.

• Ulysses Off Connemara (1914-19)
£400,000 (Tennants Auctioneers, March 2007)

• Men of Aran - An Tra - Inis Oirr (1925)
€190,000 (James Adams, March 2005)
Nathaniel Hone (The Elder) RA (1718-84)
Irish-born portrait artist; one of the founder members of the Royal Academy in London.
• Portrait of Lieutenant-General the Hon Philip Sherard and Captain William Tiffin at the Battle of Brücke-Mühl (1762)
£294,500 (Christie's London, May 2008)