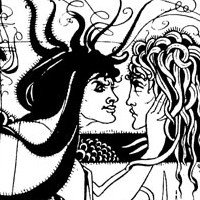 Detail from Salome (1892)
Pen and ink Illustration by
Aubrey Beardsley (1872-98)
Princetown University Library.
An illustration is a drawing, painting or printed work of art which explains, clarifies, illuminates, visually represents, or merely decorates a written text, which may be of a literary or commercial nature. Historically, book illustration and magazine/newspaper illustrations have been the predominant forms of this type of visual art, although illustrators have also used their graphic skills in the fields of poster art, advertisements, comic books, animation art, greeting cards, cartoon-strips. Most illustrative drawings were done in pen-and-ink, charcoal, or metalpoint, after which they were replicated using a variety of print processes including: woodcuts, engraving, etching, lithography, photography and halftone engraving, among others. Today, one might say there are five main types of illustrations: educational "information graphics" (eg. scientific textbooks); literary (eg. children's books); fantasy games and books; media (magazines, periodicals, newspapers); and commercial (advertising posters, point of sale, product packaging). Many of these illustrations are designed and created using computer graphics software such as Adobe Illustrator, Photoshop, and CorelDRAW, as well as Wacom tablets, although traditional methods like watercolour, pastels, casein, egg tempera, wood engraving, linoleum cuts, and pen and ink are also employed. There is an ongoing debate as to whether illustration is best categorized as a fine art, an applied art - or even a decorative art. However, looking at many of the illustrative masterpieces created through the ages, one can have no doubt that this artform ranks comfortably alongside other fine arts like painting and sculpture.
Illustrations From Prehistory, Antiquity (30,000 BCE - 600 CE)
The origins of illustration - prior to the invention of "writing" - date back to the cave painting at Chauvet, Lascaux and Altamira, when paleolithic artists used charcoal and ochre to illustrate what they saw around them (c.30,000-10,000 BCE). These crude but vivid charcoal drawings survived because of their remote existence. Most of the others, created during Classical Antiquity and the Dark Ages (c.30,000 BCE - 800 CE) were less fortunate, and have since been destroyed. A notable exception was the series of Egyptian illustrations (eg. pictorializing legends of the after-life) discovered in the tombs of the Pharaohs (c.3000-1000 BCE). In the East (China, Japan), the earliest forms of illustration were created using woodcuts.
Book Illustrations From Insular Europe (Ireland, Britain c.600-1100)
One of the commonest types of early Christian art produced during the Middle Ages was the illustrated religious text. These illuminated manuscripts, created inside Irish, British and Continental monastery scriptoria, were hand-written in Latin on animal skins, then ornamented with Biblical art, including pictures of the Holy Family and Apostles. (See also: Making of Illuminated Manuscripts.) Among the most famous illustrated gospel texts from this period were the Cathach of St. Columba (early 7th century), Book of Durrow (c.670), Lindisfarne Gospels (c.700), the Echternach Gospels (c.700), the Lichfield Gospels (730), and the Book of Kells (c.800) - see, in particular, the exquisite Christ's Monogram Page (Chi/Rho). Influenced by texts from Eastern Christendom, notably the Byzantine and Coptic (North African) churches, early Irish and Anglo-Saxon illustrators incorporated "carpet pages" and other decorative motifs which represented the high-point of early Christian art.
Carolingian Book Illustrations (c.750-900)
Charlemagne I, King of the Franks from 768 and crowned Holy Roman Emperor in 800, was an avid patron of religious manuscripts, although it is debatable whether he himself ever learned to read. These books, illustrated with images of Christian art created by scribes and artist-monks at the Carolingian court at Aachen, were sometimes written in gold or silver ink on purple-dyed leaves to emphasize Charlemagne's links with imperial antiquity. One of the reforms introduced by Charlemagne was a new, simpler, script. This is known as 'Caroline minuscule', and nearly all the manuscripts written during Charlemagne's reign are in this script. The earliest surviving manuscript to contain this script is the Godescalc Evangelistary completed in 783. Other masterpieces of Carolingian art include the Utrecht Psalter (Utrecht University Library), the Coronation Gospels (Vienna), the Godescalc Pericopes (781-3, Bibliotheque Nationale, Paris), the Abbeville Gospels (Bibliotheque Municipale, Abbeville), Trier Gospels (Stadtbibliothek, Trier) and the Lorsch Gospels (Vatican Library, Rome), and the Egino Codex (796-99, Staatsbibliothek, Berlin).
Ottonian Book Illustrations (c.900-1050)
After Charlemagne's death it was over 100 years before Otto the Great emerged to continue the tradition of book painting and illustration. Actually, it was Otto's grandson, Otto III, who showed particular enthusiasm for this form of medieval painting. illuminated manuscripts. He employed no court artists, instead he ordered manuscripts from the great monasteries such as Trier. Illustrated masterpieces of Ottonian art include books such as, a fifth-century Livy, a copy of Boethius on Arithmetic, the great Bamberg Apocalypse, a Gospel Book rich with golden decoration (now in Uppsala University Library) and an illustrated commentary of Isaiah.
Ottonian book illustration takes us into Medieval manuscript illumination, which consists of three main movements: Romanesque, Gothic and the courtly International Gothic style.
Romanesque Book Illustrations: Britain and the Continent (1050-1200)
Following the close collaboration between monasteries in Ireland, Iona, and Northern England during the period (600-900) English book painting reached new heights in the 10th century, with Winchester and Canterbury being major manuscript centres. One of the great Romanesque illuminated manuscripts of this time is the Benedictional created for St Aethelwold, Bishop of Winchester (c.963). This manuscript, made by a monk named Godeman, is marked by miniatures containing meticulously drawn figures and foliage richly decorated with gold. Aelfric, a pupil of St Aethelwold and later his biographer, translated and illustrated the first five books of the Old Testament (the Pentateuch), and the versions made at the beginning of the eleventh century are exceptionally rich and varied in their illustrations. By the time of the new Millennium, all English monasteries would have possessed quite large libraries, and a number of valuable illuminated Bibles and other gospel texts. In addition, special Psalters, and other Bible commentaries were produced and illustrated with paintings as gifts for Bishops, Archbishops and Popes.
On the Continent, Rome, Cluny, and Salzburg were major centres of Romanesque art. New religious orders and groups such as the Benedictines from Italy, and the Cluniacs, Cistercian and Carthusian orders from France, were directed to read, to make books, and to study. Although by 1200 literacy was still barely known among the general population, there were over 2000 monasteries in England or the Continent - all requiring books. This growing book industry supported an army of book illustrators and illuminators. Key works include: Vita Mathildis of Donizo (pre-1115, Vatican Library, Rome); the St Albans Psalter (1120-30, Hildescheim); the Psalter of Henry de Blois (1140-60, British Library, London); the Lambeth Bible (1150, Canterbury); the Gospel Book of Henry the Lion (1173, Herzog August Bibliothek, Wolfenbuttel).

Gothic and International Gothic Illustration (c.1200-1450)
Early Gothic illuminated manuscripts were marked by greater naturalism. In France, the idiom is evident in a series of magnificent illuminated manuscripts made for the French royal court (1230-40) containing excerpts from the Bible accompanied by moral interpretations and illustrations (Bibles Moralisees). In England the style can be seen in the Amesbury Psalter (c. 1240; All Souls College, Oxford).
High Gothic book painting was greatly influenced by contemporary sculpture. In a 4-gospel manuscript at Louis IX's chapel of Sainte Chapelle (1241-48), one can see a style of drapery incorporating the large, angular folds of the Joseph Master (Bibliotheque Nationale). At the same time there was a growing focus on detail, which gave rise to instances of virtuoso penmanship. High Gothic illustrations also exhibited improved rendition of light and shade, like that associated with the celebrated Parisian illuminator known as Master Honore, who was active about 1288-1300. Other works include: the Mannesse Codex (1310-20, University of Heidelberg Library), Psalter of Bonne of Luxembourg (c.1345-49, Metropolitan Museum, New York).