Contemporary Chalk Portrait (2013)
by Eric Jensen.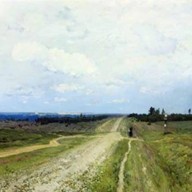 Vladimirka (The Road to Vladimir)
(1892) Tretyakov Gallery. A typical
wide horizon Russian landscape
by Isaac Levitan.
In fine art, the term 'genre' refers to the differing type or category into which a painting may be classified. Somewhat confusingly the same word appears in the phrase 'genre painting' which is itself a type or 'genre' of painting - specifically, pictures of everyday scenes. The established painting genres are: Landscape, Portraiture, Genre-Scenes, History, and Still Life. Over the centuries, debate has raged over the relative value and importance of these painting categories, and whether there is a natural hierarchy among them.
The most famous ranking-system of painting genres was that established by the great European Academies, such as the Academy of Art in Rome (Accademia di San Luca), the Academy of Art in Florence (Accademia del Disegno), the Royal Academy of Painting and Sculpture in Paris, and the Royal Academy in London. It was annunciated in 1669, by the art-theoretician Andre Felibien, Secretary to the French Academy - a body dominated by the dictatorial Charles Le Brun (1619-90).
Felibien ranked the genres as follows: (1) History Painting; (2) Portraits; (3) Genre Painting; (4) Landscapes; (5) Still Life.
This ranking system - based on traditions of Greek and Roman art established during the era of Renaissance art - was used by the academies as a basis for awarding prizes and scholarships as well as spaces in their exhibitions (Salons). It also had a significant impact on the perceived monetary value of an artwork, in the sale rooms of auction houses.
Controversy
The Academic hierarchy aroused considerable controversy and discontent among artists and movements, not least because it relegated a whole category of painting (Still Life, Interiors) to a lowly position in the pecking order, to the detriment of the Flemish and Venetian schools.