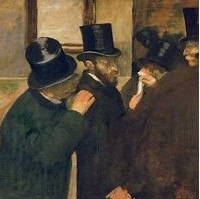 Portraits at the Bourse (1878)
Musee d'Orsay, Paris.
By Edgar Degas.
CATEGORIES OF ART
For a guide to the different forms
of fine and applied arts,
please see: TYPES OF ART.
WORLD'S TOP PORTRAITURE
For the greatest portraitists
see: Best Portrait Artists.
Neo-Impressionism also featured pictures, such as Model: Front View (1886), by Georges Seurat, founder of the Divisionist technique known as Pointillism which broke down colour into dots of pigment.
Post-Impressionist Portraits
Post-Impressionism - a vague description, denoting several famous painters (chiefly Gauguin, Cezanne and Van Gogh) who moved beyond Impressionism to Symbolism, Expressionism and more formal styles - produced a number of self-portraits. The influential pre-Cubist Paul Cezanne painted The Boy in the Red Waistcoat (1894), and the Portrait of Gustave Geffroy (1895). The Dutch artist and draughtsman Vincent Van Gogh executed Portrait of Armand Roulin (1888), Portrait of Dr. Gachet (1890), as well as an extended series of autobiographical self-portraits. The post-Impressionist fauvist Henri Matisse painted numerous highly coloured pictures of his wife, while primitive artist Paul Gauguin experimented with various styles. His painting included: Young Breton Woman (1889), and Nevermore (c.1898).
Among the leading American Impressionist portrait painters of the 19th century, were John Singer Sargent (1856-1925), J. Alden Weir (1852-1919), Theodore Robinson (1852-96) and William Merritt Chase (1849-1916). In addition, Mary Cassatt (1845-1926) was a prolific figure painter.
The next article covers Expressionist Portraiture.