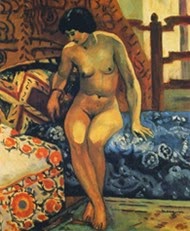 Nude Seated on Ottoman (c.1908)
Petit-Palais Museum, Geneva.
One of Manguin's most beautiful
female nudes, a little reminiscent
of works by Matisse.
WORLDS BEST PAINTERS
For top creative practitioners, see:
Best Artists of All Time.
An important representative of the Expressionist movement, and one of the most stylishly colourful of 20th century painters, Henri-Charles Manguin was a member of the Fauvism movement that sprang to prominence in 1905, after the art critic Louis Vauxcelles (1870-1943) christened them "Fauves" (wild beasts) for their garish use of colour at the 1905 Salon d'Automne. Although like all the Fauvist painters Manguin inclined towards landscape painting, he also produced some outstanding female nudes - a few reminiscent of works by Henri Matisse (1867-1954) - as well as a quantity of still life painting. In 1906 he also experimented briefly with Neo-impressionism. Because of his love of bright but not garish colour, and because he preferred working on small-scale pictures, his style of expressionism became very popular with French art collectors.
NOTE: For more about how Fauvism relates to expressionism, see: History of Expressionist Painting (1880-1930).
Born in Paris, Manguin - along with his sister - was raised by his mother, after the death of his father in 1880. How he first learned drawing is unclear, but in 1889 at the age of 15 he decided to leave school to devote himself to painting. Then, four years later, he left home, moved to Montmartre and enrolled at the Ecole des Beaux-Arts, in the studio of Gustave Moreau. Here he made friends with his fellow pupils Matisse, Albert Marquet (1875-1947), Charles Camoin (1879-1964), Jean Puy (1876-1960), Georges Rouault (1871-1958) and Louis Valtat (1869-1952). Like other students of the time, Manguin improved his art by making copies of paintings by Old Masters in the Louvre Museum. And like many others his actual style of painting was greatly influenced by Impressionism - as evidenced by his use of bright pastel hues.
Since he came from a wealthy bourgeois family Manguin was able, in 1899, to establish his studio in the garden at his home in the Batignolles, and employ models - one reason why Matisse, Marquet and Puy met at his house to paint and discuss art. Manguin was far removed from any theory, but was a born colourist who sought, because of his temperament, to create an intense colour in his painting. In the same year, he married his wife Jeanne, who became the inspiration for his portrait art, and with whom he had three children. In 1900 he exhibited his work for the first time, at the Gallerie Berthe Weil. In 1902, he showed for the first time at the Salon des Independants and the Salon d'Automne.
Fauvists at the Salon d'Automne (1905)
1905 was to become his golden year. First, he was given his first one-man exhibition in 1905 in Druet's gallery. In the fall, he participated in the "cage aux fauves" at the famous group showing at the Salon d'Automne, where he exhibited five paintings. Also in 1905 he discovered St Tropez, where he loved the light and landscape so much that he painted there in the summer months, for most of life. During the course of 1905 and 1906 he got to know several other important modern artists like Paul Signac (1863-1935), the leading theorist of Pointillism, a form of Divisionism, as well as Henri-Edmond Cross (1856-1910) and Van Rysselberghe (1862-1926), founder of Les Vingt, a group of progressive Post-Impressionist painters. In 1906 Manguin exhibited at Galerie Bernheim and with the collector Ambroise Vollard (1866-1939). In 1909 he went to Naples with Albert Marquet. From 1911 he exhibited in Russia with the Donkey's Tail Exhibition Group of Russian Artists, founded by Larionov and Goncharova (1881-1962).
Although Manguin continued painting until very late in life, his work never exceeded the freshness and sensitivity of his Fauvist period.
NOTE: Other painters associated with the Fauvism movement include: Parisians Andre Derain (1880-1954) and Maurice de Vlaminck (1876-1958), the colourful Dutch figure painter Kees van Dongen (1877-1968), the delicate colourist Raoul Dufy (1877-1953), the restless Othon Friesz (1879-1949) and Louis Valtat (1869-1952).
Although Claude Monet (1840-1926) and other Impressionist painters were an early inspiration, it was Paul Cezanne (1839-1906) who was Manguin's most important influence; not so much because of his construction, but because of his harmonious colours and tones, and his manner of introducing light. Manguin always remained close to nature, which he observed with joyful sensuality. He experienced and expressed it as part of himself. Pierre Bonnard (1867–1947) once said: "Manguin took landscape as it really is. He understood it. It was for him magic, a melody, a love song." He spent his last months in St Tropez, where he died in 1949 at the age of 75.
Fauvist-style paintings by Henri-Charles Manguin can be seen in some of the best art museums around the world.