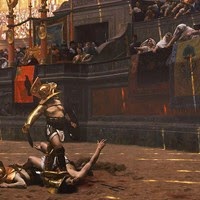 Pollice Verso (1872)
(from Latin: "thumbs down")
By Jean-Leon Gerome.
Phoenix Art Museum.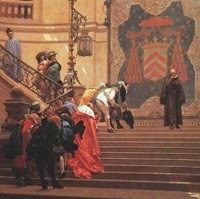 L'Eminence Grise (1873)
By Jean-Leon Gerome.
Museum of Fine Arts, Boston.
A typical example of Gerome's
highminded realist painting
which was so adored by the
French Academy - the guardian
of conservative aesthetics.
WORLDS BEST PAINTERS
For top creative practitioners, see:
Best Artists of All Time.
MODERN PAINTERS
For more artists like
Jean-Leon Gerome, see:
Famous Painters.
A stylish and well-received exponent of traditional academic art, Jean-Leon Gerome overcame the conservatism of his history painting by the variety and impact of his chosen subjects. Death in the gladiatorial arena, nudity in the kasbah, Greek mythology, Orientalist painting - Gerome did it all. However, although he was one of the best history painters in the Academy and the doyen of the Paris Salon, his conservativism prevented him from achieving true greatness in his own painting, and from appreciating true greatness in others. He was, for instance, an implacable enemy of progressive schools like Impressionism, and firmly opposed to the generous bequest of 67 Impressionist paintings to the state by Gustave Caillebotte (1848-94). Gerome's best-known works include: The Cockfight (1846, Musee d'Orsay, Paris), The Duel After the Masquerade (1857, Walters Art Museum), The Death of Caesar (1867, Walters Art Museum), Pollice Verso (1872, Phoenix Art Museum), L'Eminence Grise (1873, Museum of Fine Arts, Boston) and The Tulip Folly (1882, Walters Art Museum). Similar contributors to French painting include Antoine-Jean Gros (1771-1835) and Ernest Meissonier (1815-91).
Training and Early Recognition
Born at Vesoul, Haute-Saone, Gerome went to Paris in 1840 - against the wishes of his goldsmith father - where he trained under Paul Delaroche (1797-1856), with whom he visited Florence, Rome and Pompeii in 1843–44. When he returned to France he progressed to the workshop of the Swiss-French artist Charles Gleyre (1808-74) at the Ecole des Beaux-Arts, with whom he studied for a short time. (Later he, along with pupils of Gleyre Henri-Pierre Picou and Jean-Louis Hamon, formed a mini Neo-Greek movement.) In 1846 he applied to enter the prestigious Prix de Rome, but failed figure drawing at the final stage and was rejected. Undeterred, as part of an exercise to improve his figurative painting, he produced his first work to receive serious attention - The Cockfight (1846, Musee d'Orsay, Paris). He submitted the painting to the official Salon of 1847, where it was awarded a third-class medal, and received the enthusiastic approval of the influential French critic Theophile Gautier.
Giving up his dream of winning the Prix de Rome, Gerome focused on bettering himself by producing works in the same vein as The Cockfight. In 1848, his painting Anacreon, Bacchus and Cupid (1848, Musee des Augustins, Toulouse) won a second-class medal at the Salon. The following year he produced Michelangelo (1849, Private Collection) and A Portrait of a Lady (Musee Ingres, Montauban). In 1852, Gerome was commissioned by Alfred Emilien Comte de Nieuwerkerke, director of fine arts to the court of Emperor Napoleon III, to produce a major historical painting, the Age of Augustus (1852-54, Getty Museum). In this composition he depicts a scene which includes both the birth of Christ and the swearing of homage by representatives from vassal nations to the Roman Emperor Augustus. In preparation for the commission, Gerome travelled widely in Europe and Asia Minor, researching the dress and customs of various different ethnic groups. The money he earned from the painting enabled him to indulge his wanderlust by travelling and sketching in Egypt. This heralded the beginning of a long series of orientalist genre painting depicting the harems, homes, mosques, bazaars and souks of North Africa and the Levant.
At the Salon of 1857 his reputation was significantly enhanced by a group of paintings of a more populist variety, including The Duel After the Masquerade (1859, Walters Art Museum). In 1863, Gerome married Marie Goupil (1842–1912) - the daughter of a wealthy art dealer - and moved into a house in the Rue de Bruxelles, which he developed into a grand house complete with a sculpture studio in the basement and a painting workshop on the top floor.
In 1869, Jean-Leon Gerome was appointed to a coveted professorship at the Ecole des Beaux-Arts in Paris. He began with sixteen pupils, most of whom had transferred from his own studio. Henceforth, his influence grew considerably and he was a regular guest of Empress Eugenie at the French Royal Court at Compiegne. In 1873 he made a successful return to the Salon with his striking picture L'Eminence Grise (Museum of Fine Arts, Boston). In the work, François Le Clerc du Trembly, a friar nicknamed L'Eminence Grise (the Gray Cardinal), descends a wide ceremonial staircase his eyes glued to his Bible while passers-by either bow or stare.
Gerome's meticulously smooth historical paintings were anecdotal,often melodramatic, and often erotic. For the last 25 years of his life, he focused much of his attention on sculpture, producing a series on famous military leaders, including Bonaparte (1897); Tamerlane (1898); and Frederick the Great (1899). His workshop and studio became a meeting place for actors, painters, sculptors and writers, and he acquired a reputation as a legendary and highly respected teacher, noted for his wit, easy-going nature, and regimented teaching methods. As an artist he was renowned for his orthodox style of polished realism, while he was also known for his implacable opposition to the 19th century's growing taste for loose brushwork and sketch-like painting, exemplified by Impressionist painters like Claude Monet, as well as emerging groups of pioneer expressionists such Van Gogh (1853-1890).
• For a comparison with a 19th century German history painter who actually painted Impressionist pictures on the quiet, see: Adolph Menzel (1815-1905). For a comparison with Russian artists who painted in a similar style of polished realism, see: the academic painter Ilya Repin (1844-1930) and the portraitist and religious painter Ivan Kramskoy (1837-1887).
• For more about academic painting, see Hierarchy of Genres - the official ranking list for all types of picture.
Historical and mythological paintings by Jean-Leon Gerome can be seen in some of the best art museums around the world.