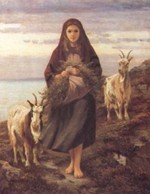 Connemara Girl, by Irish Artist
Augustus Nicholas Burke.
TOP PRICED FINE ART
For a list of the Top 10 works
by artists from Ireland, see:
Most Expensive Irish Paintings.
National Gallery of Ireland
Located in the centre of Dublin, the National Gallery of Ireland (Ghailearaí Náisiúnta na hÉireann) holds the state collection of Irish and European art, including paintings, drawings and sculpture. Founded in 1854, following the Great Industrial Exhibition, the Gallery houses more than 14,000 artworks, including an extensive collection of Irish painting, a wide range of Old Master paintings (14th century-present) notably from the Italian Baroque and Dutch/Flemish schools, as well as a collection of Turner watercolours, European and Irish drawings, miniatures, prints and Irish sculpture.
Among its 2,500 oil paintings are European works by Velázquez, Goya, Caravaggio, Vermeer, Titian, Pieter Brueghel the Younger, Rembrandt, Rubens, van Dyck, Monet and Picasso.
Among its collection of Irish paintings are works by James Barry, Augustus Nicholas Burke, Gerard Dillon, Paul Henry, Nathaniel Hone the Elder, Mainie Jellett, Sean Keating, John Lavery, Louis le Brocquy, William John Leech, Daniel Maclise, Roderic O'Conor, Walter Osborne, Sarah Purser and Jack B. Yeats, as well as several other Irish painters and sculptors.