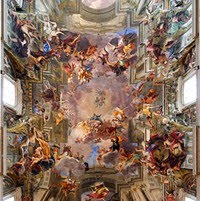 The Apotheosis of St Ignatius
(1691-4) in San Ignazio, Rome.
The finest Quadratura fresco of
Catholic Counter-Reformation Art
of the 17th century.
EARLY EUROPEAN FRESCOES
For a general guide, see:
Romanesque Painting (1000-1200)
For a more linear style of fresco, see:
Romanesque Painting in France.
For more Islamic-style fresco art, see:
Romanesque Painting in Spain.
For Byzantine-influenced murals, see:
Romanesque Painting in Italy.
Fresco was practised as early as 2000 BCE by the Minoans during the bronze age civilization of Crete. Famous Cretan buon fresco wall paintings include "The Toreador". Early frescoes were also painted in Morocco and Egypt, with Egyptian artists preferring the secco method for their tomb murals. Fresco paintings were also common in Greek art, as well as Etruscan culture and in Roman art (eg. Pompeii, Herculaneum), where they were mainly executed in buon fresco style. Early Christian art in Rome, notably in the catacombs, also featured fresco murals. Indeed the style was popular with artists throughout the ancient Mediterranean and in Turkey. In addition, early examples of Buddhist fresco art, completed between 200 BCE and 1100 CE, were discovered at the Ajanta caves and the Brihadisvara Temple in India.
Eastern Orthodox Christian art relied heavily on fresco wall paintings (as well as icons and mosaics) in its churches and cathedrals, to illustrate scenes from the Bible. In Russian medieval painting, the leading fresco mural painters included artists such as Theophanes the Greek (c.1340-1410) (see his fresco in the Church of the Transfiguration at Novgorod); Andrei Rublev (c.1360-1430) (note his mural paintings in the Cathedral of the Annunciation, Moscow, and the Cathedral of the Dormition at Vladimir); and Dionysius (c.1440-1502) (fresco murals at Ferapontov Monastery). This form of Byzantine art fused with the Gothic idiom in the Proto-Renaissance, led by Giotto.