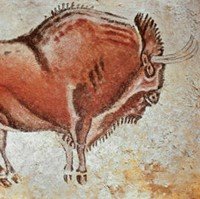 Polychrome Animal Painting from
Altamira (c.15,000 BCE)
OLDEST PREHISTORIC SCULPTURE
For details of the earliest
figurative carving in the
history of art, see:
Venus of Hohle Fels.
Discovery
Discovered in 1879, by paleo-archaeologist Marcelino Sanz de Sautuola, Altamira is the only painted cave in which signs of domestic human habitation are evident in a chamber with paintings. Usually, only the initial entrance area of the cave was used as a shelter, with the rest of the cave being reserved for art only.
Dates of Cave Paintings at Altamira
Archaeological investigations have dated Altamira's cave art to the Magdalenian period (16,000-8,000 BCE), with the earliest examples dating from 15,000 BCE. However, human inhabitation lasted from Upper Solutrean times (c.16,500 BCE) until about 12,000 BCE when a rockfall sealed the cave's entrance, thus preserving its contents until its eventual discovery in the 19th century.
Environment and Conservation
Like many similar Stone Age caves, Altamira has been plagued by environmental and conservation problems. In 1977 the cave was closed for restoration purposes, and only reopened in 1982 for limited access, creating a 3-year waiting list for visitors. Fortunately, the Spanish Ministry of Culture has opened a replica cave and museum near the original complex. Other replicas are located in the National Archaeological Museum of Spain (Madrid).