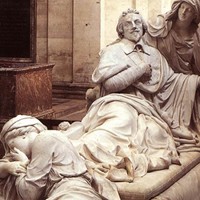 Monument of Cardinal Richelieu
1675-94, Church of Sorbonne, Paris.
SCULPTURE (1600-1850)
French Baroque Artists
Bernini (1598-1680)
Juan Martines Montanes (1568-1649)
Francois Duquesnoy (1597-1643)
Alessandro Algardi (1598-1654)
Alonzo Cano (Granada, 1601-1667)
Grinling Gibbons (1648-1721)
Balthasar Permoser (1651-1732)
Andreas Schluter (1664-1714)
Guillaume Coustou (1677-1746)
EVOLUTION OF SCULPTURE
For details of the origins and
development of the plastic arts
see: History of Sculpture.
Francois Girardon (1628-1715)
The French classical sculptor, Francois Girardon worked primarily for King Louis XIV at Versailles. Although he is one of France's most renowned Baroque sculptors, his restrained form of expression helped create the French classical style, which was emulated throughout Europe, and which acted as a precursor of the later neoclassical art.
More "academic" and classical than Antoine Coysevox (1640-1720), his main rival at court, and immeasurably more "conventional" than the individualist Pierre Puget (1620-94), Girardon's most famous works of Baroque sculpture include Apollo Tended by the Nymphs (1666-75, Apollo Grotto, Versailles) and The Rape of Proserpine (1677-99, Palace of Versailles). They can be seen in some of the best art museums around the world.
Biography
Girardon was born at Troyes, in the Champagne region of France. He studied the art of sculpture under a local master joiner and wood carver, and later in the studio of Francois Anguier (1604-69) in Paris, a specialist in funerary statues. Anguier's influence can be seen in Girardon's later work Monument of Richelieu (1675-94, Church of Sorbonne, Paris). The dying cardinal, lying on his sarcophagus and is held up by a religious figure and mourned by Science. The figures are finely carved from marble, expressive and their drapery is highly realistic. Girardon also created the Tomb of Louvois, the King's librarian (1656, St Nicolas du Chardonneret). According to documentation, Girardon then went on to study the antiquities of Rome.