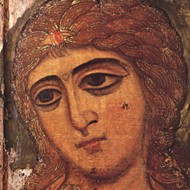 The Archangel Gabriel
(The Golden-Haired Angel)
12th Century Russian icon painting
Tempera on wood panel.
See: Christian Art (Byzantine).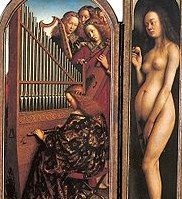 Detail from The Ghent Altarpiece,
one of the great masterpieces of
15th century Christian art, painted
by Northern Renaissance artist
Jan Van Eyck.
Painted Panels
The term 'panel painting' denotes a picture painted on a panel (either a one-piece or multi-piece panel), usually made of wood, although metal and other rigid materials are used. Until canvas became popular in the sixteenth century, most movable paintings in Europe (viz, excluding murals or artworks on vellum) were created on panels. Indeed, right up until 1600, panels were as common as canvases.
They were especially popular with painters producing altarpiece art and miniatures, who might use wood or copper (even slate) panels. Panel paintings used over the altar typically came in three formats: diptych (2-panel works), triptych (3-panel works), and large-scale polyptych (multi-panel works).
Wooden Panels
The preference of most Italian Old Masters was white poplar, while Dutch, Flemish and other northern European painters tended to use oak. Other types of panel wood included: beech, cedar, chestnut, fir, larch, mahogany, spruce, teak and walnut. Among modern artists, synthetic materials like fibre-board and plywood, are popular.
Panel Preparation and Painting
The basic preparatory technique involved seasoned wood, planed and sanded, then coated with 'size' (an admixture of gelatin or glue made from animal skins) after which up to 15 layers of gesso (a white absorbent ground for painting in tempera or oil, made from chalk mixed with glue) would be applied to produce a hard smooth surface. After this, the artist drew a freehand design or drawing, typically in charcoal, before applying paint. The actual painting might be done using the encaustic (Byzantine panels), tempera (Italian Renaissance panels) or oil (Dutch/Flemish panels) method.