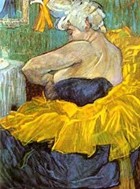 Lady Clown (1899), Conte Crayon
Drawing by Toulouse Lautrec.
Other Graphic Art Forms
For other forms of disegno
see these resources:
- Chalks
- Pen and Ink drawings
- Pencil drawings
Drawing Techniques
Although conte crayons are primarily employed for drawing which requires precise lines, square sticks of crayon can also be used like oil pastels to create blocks of tonal colour. Colours can be blended by rubbing them with a paper stump or simply with a finger, and because they are not powdery like charcoal or chalks - being more similar to oil pastels - layers of colour can be laid on top of each other to give a scumbling-style effect.
Support
Most draughtsmen who employ conte crayons in their fine art drawings, use tinted paper with a rough textured surface. This facilitates blending and layering, and emphasises the unique markings made by the crayon.
Famous Conte Crayon Artists
This medium is often used in combination with other media like soft and oil pastels. Jean-Francois Millet (1814-75), the French Realist painter was one artist who used the medium in his artworks. Other practitioners include: the French Impressionist Henri Toulouse-Lautrec (1864-1901), whose works include Lady Clown (1899) executed in black conte crayon with colour; Georges Seurat, the French post-Impressionist and inventor of Pontillism, whose works include 'Au Concert Europeen' (1887); as well as Gustav Klimt, Pablo Picasso, Willem de Kooning and Henry Moore. Another modern example of the use of crayon, can be seen in the National Self-Portrait Collection of Ireland at the University of Limerick. See for example the crayon and watercolour portrait by the Irish artist Louis le Brocquy.