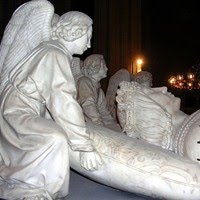 Francis II, Duke of Brittany (1502-07)
Nantes Cathedral.
BEST SCULPTORS
see: Greatest Sculptors.
Michel Colombe (1430-1512)
The medieval artist Michel Colombe is considered one of the last important International Gothic sculptors of France. His name was buried in history until 1727 when he was 're-discovered' as the sculptor of the magnificent tomb of Francis II, the last Duke of Brittany (Nantes Cathedral, 1502-7). Today, his reputation rests even more on his marble relief, 'St. George and the Dragon' (1508–09, Louvre), a work of late Gothic sculpture that blends Loire Style Gothic fantasy with Italian Renaissance modelling.
Marble Tomb For Duchess of Brittany
Very little is known of Colombe's life and only two works of sculpture may definitely be attributed to him. He may have been born in Bourges, central France around 1430.