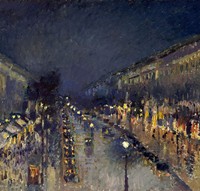 Boulevard Montmartre at Night
(1898) National Gallery, London
By Pissarro.
HOW TO UNDERSTAND
A PARTICULAR PAINTING
See: How to Appreciate Art.

Camille Pissarro was a major contributor to Impressionist landscape painting for at least two reasons. First, because he gave considerable advice and encouragement to younger painters, including Gauguin (1848-1903) and Cezanne (1839-1906). Second, because - along with with Claude Monet (1840-1926) and Alfred Sisley (1839-99) - Pissarro formed a trio of Impressionist painters who were devoted to the practice of plein-air painting, which was the hallmark of pure Impressionism. Sadly, towards the end of his life, an eye complaint obliged him to retreat indoors and paint views from windows, a technique exemplified in the highly popular series of views of Boulevard Montmartre (1897-8), which he painted at night and during the day, from his hotel window, in a wide variety of weather conditions. Later he painted from his apartment overlooking the Tuileries gardens towards the Seine. Compare his urban landscapes with the Rouen Cathedral Paintings (1892-4) and the Gare Sainte-Lazare Paintings (1876-8), by Monet. For more background, see: Characteristics of Impressionism (1870-1930).
After completing a series of small paintings of the rue Saint-Lazare, depicting the differing effects of rain and snow, which were greatly admired by his dealer Paul Durand-Ruel (1831-1922), Pissarro decided to do the same for the boulevards of Paris. So on 10 February 1897, Pissarro took a room on an upper floor of the Grand Hotel de Russie, at 1 rue Drouot in Paris, where over the next eight weeks he completed fourteen pictures of Boulevard Montmartre - and two views of the Boulevard des Italiens - as seen from his hotel window. In keeping with his lifelong preoccupation with recording the effects of light and colour, Pissarro remains less concerned with the issue of topography than with capturing the constantly changing effects of light and weather through winter into early spring.
Analysis of the Boulevard Montmartre Paintings by Pissarro
Boulevard Montmartre (winter morning) (1897)
Metropolitan Museum, New York
Colour palette: Pinks, browns, reds, golds for the wooden wagon wheels.
Good visibility, with a hint of a haze in the air, perhaps from coal fires. A wonderful mixture of traffic on the street: cabs, commerical wagons, horse-drawn coaches and more. All dominated by the tall architecture overlooking the busy road surface and the pavements of black-hatted pedestrians.
Boulevard Montmartre à Paris (1897)
Hermitage Museum, St Petersburg
Colour palette: Pinks, reds, light browns, blue-greys.
Caught in the rosy light, probably of early afternoon, the wide street is busy with columns of horse-drawn carriages, both the larger variety as well as the smaller, faster cabs.
Boulevard Montmartre (Mardi Gras) (1897)
Armand Hammer Museum, Los Angeles
Colour palette: Sage green, aquamarine green, dark browns, reds, pinks.
The pavement bulges with crowds of spectators watching the huge Mardi Gras procession, as part of the Carnaval de Paris. The tracery screen of tree foliage and the tall buildings add to the uncertain weather.
Boulevard Montmartre (morning, cloudy weather) (1897)
National Gallery of Victoria
Colour palette: Browns, reds, acid-green, silvery sky.
On this chilly morning, the wide street is busy with colourful horse-drawn loads of commerical goods and merchandise. The clear light provides excellent visibility into the distance.
Boulevard Montmartre (spring afternoon) (1897)
Private Collection
Colour palette: Beiges, greys, a little brown, lime-green for the trees.
A warm spring day sees trees bursting with new green foliage leaving shadows on the dappled streets. The northern side of the boulevard is bathed in weak sunshine, while the opposite side is in shadow.
Boulevard Montmartre at Night (1898)
National Gallery, London
Colour palette: Blues, golds, some reds and yellows.
An absolute masterpiece of night-time Impressionism and the only nocturnal scene of the Boulevard Montmartre, in the series. It perfectly captures the wet streets and the liquid illumination of street-lamps, shop windows, and newspaper kiosks.
Although noted for this series of urban landscapes, Pissarro was best known for his paintings of the countryside, such as: The Red Roofs (1877) and the Vegetable Garden with Trees in Blossom, Spring, Pontoise (1877).
Unfortunately, Camille Pissarro sold few of his paintings during his lifetime. But as the popularity of Impressionist art began to grow during the 20th century, prices for his works began to soar. In November 2009, Boulevard Montmartre: spring afternoon (1897), originally in the collection of the German industrialist Max Silberberg, was sold at Sotheby's in London for a record-breaking £19.9 million. For more, see: Most Expensive Paintings: Top 10.
NOTE: For the full story behind French Impressionism and the group of painters who produced it, please see our 10-part series, beginning with: Impressionism: Origins, Influences.
Explanation of Other Impressionist Urban Landscapes
• Canal St Martin (1870) by Alfred Sisley.
Musee d'Orsay.
• Gare Sainte-Lazare (1877) by Monet.
Musee d'Orsay.
• The Road-Menders, Rue de Berne (1878)
Private Collection.
• Rouen Cathedral Paintings (1892-4) by Monet.
Various art museums.