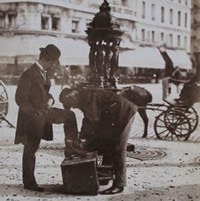 "Shoeshine in Paris" (1899)
("Decroteur) Photographed by
Eugene Atget.
PHOTOGRAPHIC GLOSSARY
For a brief explanation of technical
and historical terms, please see:
Art Photography Glossary.

A pioneer of late-19th and early-20th century photography, Jean-Eugene-Auguste Atget (1857-1927) was a French camera artist who is celebrated for his mixture of urban documentary photography and street photography which recorded the disappearing neighbourhoods, street scenes and architecture of Paris. Taken during the period 1897 until his death in 1927, his images formed a huge archive of architectural ornamentation, featuring metalwork, stairways, door knockers and shop signs. His clients included museums, art galleries, antiquarians, libraries and architectural archives. An important part of his modern art, lay in his use of the dry-plate negative, which allowed him to take photographs all day and develop his prints later. In the 1920s he sold a large number of his glass-plate negatives of Parisian architecture to the French government. Despite being one of the greatest photographers of his day, Atget's camera art only gained wide attention after his death.
Over three decades, on his own initiative, he was occupied with a photographic documentation of old Paris. Initially discovered in the 1920s by Surrealist artists like Man Ray for the world of art. Now a model for countless documentary photographers.
Loses both his parents at an early age. From 1862 lives with his mother's parents. After finishing school, becomes a cabin boy in the merchant marine. From 1878 in Paris. Drama school. Military service: 1881, released after the death of his grandparents. Becomes a travelling actor. 1887, gives up acting (because of vocal chord infection). Paints, without success. From 1888, takes up photography. Makes artists' studies for painters ("documents for artists").
1897, begins a systematic exploration of old Paris: "petty tradesmen", courtyards and facades, elements of facades (doors, balconies), shop windows, interiors. 1898, first sale to public institutions (including Musee Carnavalet). Meets Man Ray (like Atget living in Montparnasse, since 1922). 1926, four photographs in the magazine La Revolution Surrealiste. 1927, through Man Ray, portrait of Berenice Abbott (three photographs). After Atget's death, his estate between Archives Photographiques d'Art et d'Histoire (2,000 negatives) and Berenice Abbott (7,800 glass negatives, 1,400 prints).
1929, presentation of eleven photographs at the Werkbund exhibition Film und Foto. The monograph Atget: Photographe de Paris (1930), brought out by Berenice Abbott is the beginning of his international reputation. 1968, acquisition of Abbott collection by the Museum of Modern Art, New York. For the 150th anniversary of his birth, a major retrospective with stops in Paris, Berlin, and Winterthur.
NOTE: For another photographer who achieved international recognition for his series of photos of Paris, see the Hungarian artist Brassai (Gyula Halasz) (1899-1984).
"The history of photography is short, but it is long enough for us to divide it into the epoch of the old masters and a modern epoch. As with painters, among photographers we most admire a few old masters who inexplicably seem modern, as if they were strangers in their own times and created their work for future generations. The best-known examples of such artists, strange and at the same time familiar, are Vermeer amongst painters and Atget for the photographers." (Wilfried Wiegand).
For a brief discussion of the aesthetics and evolution of lens-based art, see: Is Photography Art?
Unless stated all shows are solo events.
1928 Paris (Salon de la photographie/Solon de l'Escalier) group show
1929 Stuttgart (Film und Foto) group show
1930 New York (Erhard Weyhe Bookstore and Gallery)
1931 New York (Julien Levy Gallery - 1936) joint show with Nadar
1952 New York (Metropolitan Museum NYC)
1972 New York (Museum of Modern Art - 1981, 1982, 1983, 1985, 1987)
1982 Paris (Musee Carnavalet - 1992)
2000 Paris (Hotel de Sully)
2000 Los Angeles (J. Paul Getty Museum)
2007 Paris (Bibliotheque Nationale de France)
2007 Berlin (Martin-Gropius-Bau)
2008 Winterthur (Fotomuseum)
2008 Cologne (Galerie Thomas Zander) joint show with Lee Friedlander
Parisian photographs by Eugene Atget are regularly exhibited in some of the best galleries of contemporary art in Europe and America.