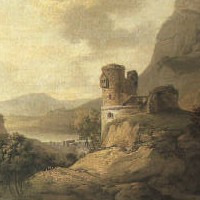 Rocky River Landscape With Castle By Georhe Mullins, one of the great
Irish Artists of the 18th Century.
George Mullins (fl.1763-75)
One of an emerging group of native Irish landscape artists - the others comprising Thomas Roberts (1749-78), his brother Thomas Sautelle Roberts (c.1760-1826), Corkman Nathaniel Grogan (c.1740-1807) and William Ashford (1746-1824) - George Mullins was a classical landscape painter, as well as an occasional portraitist and animalier.
Born in Dublin and educated at the Royal Dublin Society art schools in the mid 1750s, he worked initially in a Waterford factory, hand-painting snuff-boxes, after which he returned to the capital where he won several Society awards both for landscape and history painting, during the 1760s. During this period he also exhibited with the Society of Artists in Dublin, and showed several works (a landscape and three oil portraits) at the Royal Academy (RA) in London.
In 1770, he went to London where he stayed with the Irish theatre-painter Robert Carver (c.1730–1791), and continued to show at the RA. As an artist, Mullins excelled at idyllic-style landscape painting in the manner of Lorraine Claude (1600-82), although he was also influenced by George Barret (Senior) (1732-84) and others, and his paintings were highly respected particularly for their tone and colour. One of his unique trademarks was the inclusion of nudes (male and female) in his views, a habit he owed to the Dutch Italianate-style landscape artist Cornelius van Poelenburgh (c.1586-1667). Perhaps due to his association with Robert Carver the theatrical set-artist, Mullins also found considerable work as a sign painter. Unfortunately, his early death in 1775, at the age of about 35, robbed Ireland of a considerable talent. The life of his pupil, Thomas Roberts, was also tragically cut short three years later. He is now viewed as one of the great Irish artists of the 18th Century,