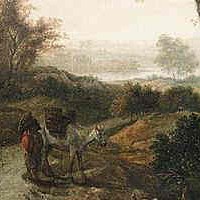 Landscape with figure & mule on a path.
By Thomas Sautelle Roberts.
One of the great Irish Artists of the
18th Century.
Thomas Sautelle Roberts RHA (c.1760-1826)
A younger brother of the polished Irish landscape painter Thomas Roberts (1749-78), Thomas Sautelle Roberts - named Sautelle after the Huguenot side of his mother's family, while he himself took the name Thomas after the untimely death of his brother in 1778 - was one of a group of native Irish landscape artists to emerge in the late eighteenth century.
Born in Waterford, he studied drawing and painting in the Dublin Society schools, where he won a medal for draughtsmanship in 1779. Apprenticed to Thomas Ivory, the renowned architect, he quit architecture at the end of his term to devote himself to painting. Whether or not he intended to take over his brother's artistic practice is unclear, in any event he passed the next two decades in London (or perhaps moved between Dublin and London), until 1799, when he largely settled in the Irish capital. Patronized in the early 1800s by Lord Hardwicke, Lord Lieutenant of Ireland, Roberts exhibited a number of Irish landscape paintings at the Royal Academy in London between 1789 and 1811, and at the British Institution between 1807 and 1818. His earlier works were largely watercolours, some of which were reproduced by means of aquatint engravings. He first showed in Dublin in 1800, when he displayed over a dozen paintings at the Society of Artists exhibition in Dame Street - something he continued doing for the next 20 years. During this period Roberts extended his repertoire to include landscapes in oils, along with small-scale portraits of horses.
Renowned for his Romantic-style of painting, Roberts was highly regarded by his contemporaries. In 1823, upon the formation of the Royal Hibernian Academy (RHA) - the first national artist body in Ireland - it was Roberts, together with William Ashford (c.1746-1824) and William Cuming (1769-1852), who were charged with the task of nominating Academicians. At the first RHA exhibition in 1826, he exhibited five oils and two watercolours, but this was his last show. Having seriously damaged his shoulder during a coach crash in 1818 - an injury which severely handicapped him in his painting - he fell into depression and committed suicide. Today, he is regarded as one of the major Irish artists of the eighteenth century.