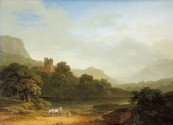 Landscape with Peasants & Cart
MORE ABOUT ART IN IRELAND
For a guide to oils/watercolours
see: Irish Painting.
For answers to popular queries,
see: Irish Art Questions.

Thomas Roberts (1748-1777)
The highly talented Irish landscape artist Thomas Roberts was born in Waterford in 1748, the fourth child of John Roberts, architect, and his Huguenot wife Mary Susannah Sautelle. His brother Thomas Sautelle Roberts RHA (1760-1826) was also a painter. Thomas Roberts' ability as an artist must have been evident from an early point, because in 1763, when he was only fifteen, his father enrolled him as a student at the Dublin Society's Schools, where he was taught landscape painting by James Mannin, gaining a prize in the process. He was then apprenticed to the landscape painter George Mullins. Adopted by art patrons Duke of Leinster and Lord Powerscourt, Thomas Roberts was only 18 when he began exhibiting at the Royal Dublin Society of Artists. He showed a total of fifty-six paintings at the RDS before his premature death, establishing a reputation as an outstanding painter, and one whose services were in great demand especially for topographical landscapes.
Known especially for his views of park-like scenery and country seats, Thomas Roberts received a number of commissions from Irish landowners who wanted him to capture the views and visual aspects of their properties. At this time, a century before the first photograph, paying a landscape artist to capture the property on canvas was a landowner's only way of recording the beauty of his land and the architecture of his buildings. Roberts' four superb views of Carton estate in Co Kildare, seat of the Duke of Leinster, are perhaps his best known. He also produced fine paintings of Beau Parc and other views on the river Boyne, Powerscourt in Co Wicklow, Rathfarnham Castle the seat of Lord Ely, and the Casino at Marino, executed for Lord Charlemont. Curiously, he does not seem to have done any work in his native county, or indeed anywhere in the south-east.
He often incorporated figures into his scenic views, and he showed himself a master at depicting movement - such as, men quarrying stone at Lucan, a hunt in full tilt at Bellisle. Horses are also common features, and in one of his works - Portrait of Bold Sir William, an East Indian black, and French dog - the horse is obviously the centre of attention and the landscape secondary.
Sadly, just as his artistic talent and reputation was starting to flower, illness intervened. According to his niece Margaret Price: 'coming in one day after his room had been washed out, he sat painting in it, from which he took cold that ended in a decline, of which he died the following winter at Lisbon where he went for his health. Thomas Roberts died from consumption at the age of 28. Thus ended the life of one of the most talented Irish landscape artists of the eighteenth century.
His perceived standing as a painter may be gauged from the fact that in 2004-5 three of his paintings sold for a total of almost 1 million Euros. Roberts' paintings can be seen in the National Gallery of Ireland and are represented in other collections including the Office of Public Works.