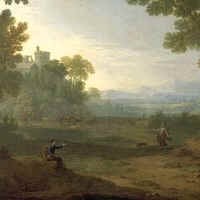 Arcadian Landscape With Travellers
(1764). By Robert Carver.
One of the great Irish Artists of the
18th Century.
Robert Carver (c.1730–1791)
Born in Dublin into a Waterford family of artists, Robert Carver received his early art training from his father Richard Carver, a romantic landscape painter, before studying drawing and fine art painting under Robert West at the Dublin Society Schools. He enjoyed a distinguished career as a painter of theatre scenery - his representation of the Waterfall at Powerscourt which he completed for "A Trip to the Dargle" was acclaimed by the critics as "astonishing" - as well as an easel painter of Claudean landscapes which typically recalled the golden age of the classics. Although this painting style is usually enough to distinguish him, some of his paintings are similar to those of his shorter-lived contemporaries John Butts (1728-65) and Thomas Roberts (1748-78).
His commercial career as a theatre-artist began in Dublin, where he followed John Lewis as scenery-painter at the Smock Alley Theatre in 1754, although he also painted sets for the rival Crow Street Theatre. In 1765, Carver went to London, and such was his skill and reputation that he became the head of scene painting at the Garrick Theatre in Drury Lane. His increasing workload in the theatre led to a reduction in his fine art output, but he continued exhibiting with the Free Society of Artists in London, becoming a member of the Society in 1773 and President in 1777. But by then the Society had been overshadowed by the Royal Academy, where incidentally he also exhibited. Carver died of pneumonia in 1791, while completing a series of pictures for his patron Lord Altamont in Westport, County Mayo. Today, he is considered to be one of the major Irish artists of the eighteenth century.