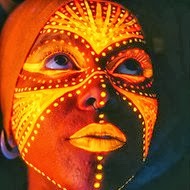 The performance artist Leevi wearing
fluorescent face paint in her studio in
Barcelona, Spain.
DIFFERENT FORMS OF ARTS
For definitions, meanings and
explanations of different arts,
see Types of Art.
Face Painting
Like body painting, face painting is less an art, than an ancient craft which dates from the era of Paleolithic art and culture. Used primarily to identify important individuals (like tribal chiefs, shamans, and witch doctors), to denote the different genders and social classes, and to reflect military rank, the painting of faces was a common cultural practice in most parts of the world: see, for instance, American Indian art. Indeed, it survives in tribal art to this day in Africa, Asia, South America, parts of Australia and in some Pacific Islands of Polynesia and Melanesia. Colour pigments used, include woad, charcoal, ochre, henna and annatto.
Functional Paint

More functional face painting encompasses the use of camouflage facial paint, sports paint used to reduce sun glare and highly specialist protective paint applied for medical reasons. Face painting has also become a widespread amusement for children.