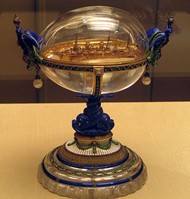 Standart Yacht Faberge Egg (1909)
Kremlin Armoury, Moscow.
EARLY RUSSIAN ARTISTS
For the greatest iconographers:
Theophanes the Greek
Founder of Novgorodian school.
Andrei Rublev
Russia's greatest icon painter.
Dionysius (1440-1502)
Early master of Muscovite School.
Of French Huguenot descent, Gustav Fabergé was born in the city of Parnu, Estonia, then part of the Russian Empire. At the age of 18, he went to St Petersburg to begin his training as a goldsmith under Andreas Ferdinand Spiegel. After this he continued his apprenticeship at the eminent firm of Keibel, goldsmiths and jewellers to the Russian Tsars. In 1841, at the age of 27, he completed his training and was awarded the title of Master Goldsmith. The following year he founded the firm of Fabergé in a basement shop in St Petersburg's upmarket Bolshaia Morskaia neighbourhood, and - along with his new Danish wife Charlotte Jungstedt, daughter of a Danish artist - soon established himself as a jeweller and dealer in fine decorative objects. The company's French name was a crude ploy to exploit the Russian aristocracy's reverence for French culture. In 1846, his eldest son Peter Carl was born, followed in due course by a second son Agathon. In 1860, together with his wife and children, Gustav retired to the cultured German city of Dresden, leaving the St Petersburg jewellery business in the hands of experienced managers.
Peter Carl Fabergé (1846-1920)
Carl Fabergé received his initial education at the St Petersburg Gymnasium of St Anne's, which catered for the sons of the prosperous middle classes and minor nobility: a clear sign, of the success of his father's jewellery business. When Gustav Fabergé retired to Dresden, Carl remained at St Anne's until the age of 15, when he left to enroll at the Arts and Crafts School in Dresden. After this he was dispatched on an intensive 8-year educational tour of Europe in order to learn the jewellery business, receiving detailed instruction from master goldsmiths in several of the main jewellery manufacturing centres, including London, Paris, Antwerp, Frankfurt, Nuremberg, Rome and Florence. In addition, he received additional tuition in applied art and commerce, and studied objets d'art in a number of arts and crafts museums. In 1872 he returned to St. Petersburg to make jewellery for the family business. At the same time he married Augusta Julia Jacobs, with whom he had four sons: Eugene (1874-1960), Agathon (1876-1951), Alexander (1877-1952) and Nicholas (1884-1939), all of whom became jewellers and joined the business. In 1872, he took over as joint head of Fabergé, which he managed for a decade with the help of Hiskias Pendin, an experienced and trusted workmaster.
Note: A Fabergé workmaster was an independent master jeweller or craftsman with his own workshop, who manufactured jewellery and other precious objects exclusively for the House of Fabergé, according to designs supplied by the firm. Most workshops tended to specialize in a slightly different aspect of goldsmithery. This method of decentralized manufacturing developed over time: thus, while Gustav Fabergé made everything himself, by the First World War the company was almost entirely dependent on its network of some 40 workmasters, as well as specialist suppliers like Julius Rappoport, (1864-1916).
During the late 1870s and early 1880s, as well as making jewellery in the popular 18th century French style, the firm was occupied with the repair and restoration of decorative objects in the Hermitage Museum. The business prospered, and in 1881 it relocated to larger premises. In 1882, Peter Carl gained the title of Master Goldsmith. Shortly afterwards, following the death of his 'guardian' Hiskias Pendin, he assumed sole control of Fabergé. By this time, he had been joined in the business by his brother Agathon, a highly talented decorative designer. But it was Carl's genius to ignore the usual flamboyant emphasis on precious stones and to subordinate gems to the over-all design of the work. In designing a cigarette box, for example, Fabergé's craftsmen used translucent blue, red or rose enamelling as the primary material, lining the edges with a row of tiny diamonds.
The Pan-Russian Exhibition, staged in Moscow in 1882, proved to be a huge success for the company. The Fabergé brothers won several awards, including a gold medal and the St. Stanisias Medal, attracting high praise from Tsar Alexander III (1881-94), who decreed that henceforth the firm's products were to be displayed in the Hermitage Museum, as examples of the finest Russian craftsmanship. This royal approval provoked a surge of interest in the firm from a variety of nobles at the Romanov court and beyond. In 1885 the Tsar went further, bestowing upon Fabergé the title of Goldsmith by Special Appointment to the Imperial Crown.
Tsar Alexander also commissioned the firm to create an Easter Egg to be presented as a gift for his wife, the Empress Maria Fedorovna. The finished item had an outer "shell" enamelled in gold to look like a real hen's egg. This opened to reveal a gold "yolk", which itself opened to reveal a gold chicken that also opened to display a replica Imperial Crown from which a tiny ruby egg was suspended. A stunning piece of personal visual art. The Tsar was so pleased with the result that in 1887 he instituted the Romanov tradition of ordering a new Easter egg each year. Carl Fabergé was given total freedom of design, provided that each precious object contained a surprise. Alexander's successor Nicholas II (1894-1918), continued the tradition, commissioning two eggs annually: one for his wife, the Empress Alexandra Fedorovna, and one for his mother, the Dowager Empress. The tradition was maintained until the Bolshevik Revolution in 1917.
In 1900, Carl represented Russia at the Paris World Fair, where he was awarded a gold medal and also appointed a Knight of the Legion of Honour, as were his two eldest sons and his Head Workmaster. The exhibition was an outstanding success for the company, which acquired a raft of new clients from across Europe. By now it was Russia's largest firm of jewellers, and during the early 1900s it moved into a dedicated multi-storey building in Bolshaia Morskaia. Carl Fabergé might have been the official court jeweller to the Russian Tsar, but his clients were international. In a single day in 1898, he played host to the King and Queen of Norway, the Kings of Denmark and Greece and Queen Alexandra of England.
Characteristics of Fabergé's Eggs
The House of Fabergé presented 50 Imperial Easter eggs to the Romanov family (excluding two Imperial Eggs planned for presentation and partially completed, which were not presented – The Blue Tsarevitch Constellation and The Birch), of which 42 have survived. Some were simple, exquisitely painted eggshells from which the yolks had been drawn. Others were real works of art: the fabulous gem-encrusted miracles of artistic jewellery. The main feature of these Imperial Faberge eggs was the "surprise" inside. One of the finest of these bejewelled masterpieces was the Great Siberian Railway Easter Egg. It consisted of an egg of blue, green and yellow enamel, on which delicate inlays of silver traced the map of Siberia and the route of the Trans-Siberian train. Inside was a scale model, one foot long, five-eights of an inch wide, of the five cars and locomotive of the Siberian Express. All the wheels and other moving parts were precision-made so that, with a few turns of the gold key, the gold and platinum locomotive, with a ruby gleaming from it's headlights, could actually pull the train. Coupled to the baggage car was a carriage with half its seats reserved for ladies, another car for children, and yet another for smokers and a church car with a Russian cross and gold bells on the roof. At Easter 1913, Nicholas gave Alexandra a Faberge egg which contained miniature portraits of all Romanovs Tsars and Tsarinas framed in Russian double eagles. Also inside was a globe of blued steel with two maps of the Russian Empire inset in gold, one of the year 1613 and the other of 1913, commemorating three hundred years of the Romanov dynasty.
Fabergé Master Craftsmen
The master jewellers chiefly responsible for these exquisite masterpieces were Michael Perchin (1860-1903) and Henrik Wigstrom (1862-1923), although many other highly specialized master craftsmen were also involved in painting and hardstone sculpture, as well as various goldsmithery processes. The latter included Johan Victor Aarne (1863-1934), Feodor Alexeievich Afanasiev (1870-1937), Karl Gustaf Hjalmar Armfeldt (1873-1959), August Frederik Hollming (1854-1915), Johannes Zehngraf (1857-1908), Erik August Kollin (1836-1901), Karl Gustav Johanson Lundell, Oskar Woldemar Pihl (1860-97), Feodor Ruckert (1840-1917), Vassily Zuiev (1878-1941).