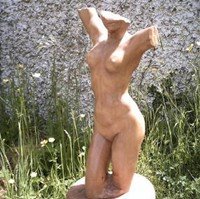 Wood Sculpture.
POSTMODERNISM
For late 20th century artworks,
see: Contemporary Art.
BEST IRISH ARTISTS
For a list of the leading Irish
painters, see: Best Irish Artists.
Micheal O'Raghaill and Maria Gkinala
When two highly talented artists from different cultures and backgrounds come together to create beautiful art, the result can be spectacular. This is exemplified by the creative output of Micheal O'Raghaill and Maria Gkinala, from their Wood 'n' Icon art studio in Corlough, County Cavan. Both are highly cultured artists, trained in differing disciplines. O'Raghaill is a master woodcarver, wood sculptor, medievalist and cabinet-maker, while Gkinala - a painter and marble-sculptor - is classically trained in the Iconography of the Orthodox Church. Their unusual interests and skills have enabled them to produce an astonishing diversity of work (only some of which is featured on this page), including: wood carvings, marble sculptures, figure drawings, icon paintings, miniatures, landscapes, portraits of animals, hand-crafted furniture, illustrations, objets d'art and much more. Their works have appeared in exhibitions and TV programs at home and on the Continent, and are represented in numerous private collections in Europe, the United States, Japan, Australia, and South Africa.
• For other postmodernists in Ireland, see: Contemporary Irish Artists.
• For the world's best, see: Top 200 Contemporary Artists.