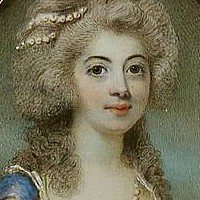 Mary, Viscountess Dillon (Miniature).
By Horace Hone. One of the great
Irish Artists of the 18th/19th Century,
and one of the best miniaturists in
England.
Horace Hone (1756-1825)
A member of the famous Dublin Hone family of artists, originally from Holland, Horace Hone was born in London and there received his early training in fine art from his father Nathaniel Hone the Elder (1718-84). This instruction encompassed miniature painting in watercolour on various media including enamel and even ivory. At the age of 14, he studied drawing and painting at the Royal Academy Schools, and began exhibiting his works at the Academy in 1772: a practice he continued for the next 50 years.
In 1779, he was elected an Associate Member of the Academy, and three years later - at the invitation of Lady Temple, one of Hone's patrons whose husband was the colonial ruler of Ireland - settled in Dublin. Lady Temple was herself an important member of the Anglo Irish aristocracy with widespread social connections among the ruling classes, and was instrumental in ensuring that Hone received a constant stream of portrait commissions, for which he was eminently equipped. Indeed, his miniature portrait painting became so popular that in 1795 he was appointed to the post of Miniature Painter to the Prince of Wales.
Unfortunately, the Act of Union caused many of Hone's customers to quit Ireland and move to London in the early 1800s. Hone himself followed in 1803, and managed to re-establish himself as a miniaturist. Sadly, he had suffered for many years from mental illness, and declined rapidly in his later years. He died in London at the age of 69. Today, he is regarded as one of the major Irish artists of the eighteenth century.
For another member of the Hone family, see: Nathaniel Hone The Younger (1831-1917).