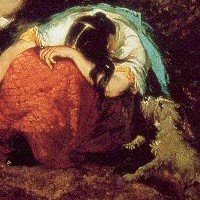 Discovery of the Potato Blight (Detail).
By Daniel MacDonald
One of the great Irish Artists of the
19th Century.
Daniel MacDonald (1821-53)
One of the few 19th century Irish painters to focus attention on the Great Famine in Ireland during the late 1840s, Daniel MacDonald (originally McDaniel) was born in Cork, the son of the caricaturist and draughtsman James McDaniel (c.1789-1840). Taught drawing at an early age by his father, MacDonald soon demonstrated his sketching skills, becoming noted for his pen and ink drawings including both portraiture and caricatures of local figures. When still only a young teenager, he had two etchings published in The Tribute, a Cork literary publication. In his early 20s, he began exhibiting at the Royal Hibernian Academy (1842-44), before leaving for London shortly after. Meanwhile the Famine (1846-51) had broken out in Ireland, during which MacDonald returned to paint one of the few pictures showing an actual scene from the famine. This genre painting, 'The Irish Peasant Family Discovering the Blight of Their Store' was exhibited at the British Institution in 1847. Neither MacDonald's role in publicizing the tragedy - nor that of his fellow Cork artist James Mahoney (1810-79) - has ever been fully recognized.