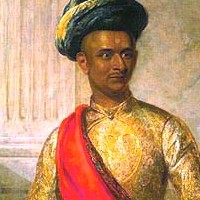 Portrait of Purniya, Chief Minister
Of Mysore (1801). By Thomas Hickey.
One of the great Irish Artists of the
18/19th Century.
Thomas Hickey (c.1741-1824)
One of the great adventurers in the history of Irish art, Thomas Hickey was a popular and successful portrait artist, who practised portraiture in Ireland, the UK, Portugal, India and China, but never achieved significant acclaim in his native country during his lifetime.
He was born in Dublin, the son of a sweet-maker, and studied drawing and painting at the Dublin Society schools, where he gained numerous prizes in his early teens. His early works were largely portraits executed in chalk, but following a study trip to Italy in the early 1760s, he began exhibiting a range of oil paintings. Depressed by his failure to win patrons and develop his art in Dublin, he went to London and became a regular contributor to exhibitions of the Royal Academy. After a short spell in Bath, he embarked in 1780 on a ship to India which was then captured by the French - who were at war with Britain - and Hickey ended up in Lisbon searching for a boat to London. While waiting, portrait commissions flooded in, causing him to remain in Portugal for a couple of years.
In 1784 he finally made it to India, establishing himself in a fine quarter of Calcutta where he remained for 7 years. During this time he painted the portraits of many of the local English hierarchy, and wrote a book entitled 'The History of Painting and Sculpture'. After returning to England in 1791, he signed up as the official portraitist on Lord Macartney's expedition to China 1792-4, which he followed with a visit to Dublin before returning to India in 1798. During this second spell in the Orient, Hickey painted an outstanding series of chalk portraits of over 30 British Army officers and numerous Indian soldiers. A celebrated and witty conversationalist, he settled finally in Madras where he died at the age of 83. Today, he is considered to be one of the major Irish artists of the eighteenth century.